Robinsons, which shut down over the weekend, had a long association with Christmas and had Singapore dreaming of its very first white Christmas in 1949.
---
For a while, Christmas in Singapore wouldn't be Christmas without a visit to Robinsons. The store — a long time Singaporean retail institution, which had a strong link with the year end season of cheer, had its long and eventful history brought to a sad end when it shut its doors for good on 9 January 2021 – just a few weeks short of its 163 birthday.
Growing up, Robinsons was certainly the place to go to get a feel of Christmas. The prospect of having to say hello to Father Christmas, of whom I was terrified, did not stop me from visiting the toy department. Robinsons vast array of toys made its toy department possibly the largest in Singapore at that time. Even if there wasn't much prospect of getting my hands on what I truly desired, it made it the place to be at, if only to gawk at the toy selection and a model railway that never failed to have me enthralled. There was also the Christmas lucky dip to turn towards if all manners of persuasion at getting a toy that I badly wanted failed. For the price of what may have been two bowls of noodles, the gifts that one pulled out of the dip did sometimes surprise and I obtained one of my favourite toys in this manner, an orange battery operated submarine.
Those were days when Robinsons occupied its rather iconic Raffles Chambers premises in a building that, quite tragically, was destroyed in a huge fire that claimed nine lives in November 1972. The old building in Raffles Place was not Robinsons first store. It moved to it late in 1941, just a month or so before the war came to Singapore. It was however a location that was Robinsons' most recognised and remembered in its stores right up to the point at which it closed. Raffles Chambers was also where Robinson's introduced some of its more elaborate ways to welcome the season — a season that for Robinsons must have had the cash registers ringing for many years. Among the innovative ways in which Christmas came to Robinsons at Raffles Chambers was with Singapore's very first "White Christmas" — when a movie set snowstorm blew in a Christmas themed display in a shop window. Snow made from chemically treated fibre was brought over from England for this with fans used to blow fake snow around the set.
The history of Robinsons went back to February 1858, when Philip Robinson — who had arrived from Melbourne just the year before, and James Gaborian Spicer, established Spicer and Robinson. The "family warehouse" dealt in a large assortment of imported household goods, outfitting and foods from its premises at 9 and 10 Commercial Square or Raffles Place. The partnership did not last very long. In October 1858, Spicer pulled out of the arrangement and as Robinson and Co, the store continued operating with Robinson and a new found partner George Rappa Jr at the helm. The store prospered, and after being on the move and moving out of Raffles Place, eventually found a large "warehouse" back in Raffles Place in 1891. By that time Robinson and Co operated departments for drapery, hosiery, haberdashery, furnishings, motors and cycles, photographic apparatus and sports requisites. The store also dealt with arms and ammunition, as sole agents for Messrs Kynochs, a Birmingham based ammunition manufacturer.
Soon after its move across the square to Raffles Chambers, the first Japanese bombs fell on Singapore in December 1941. The building would be partially damaged by the air raids twice — on 8 December 1941 and on 13 February 1942, even if it continued operations before eventually closing when Singapore fell. The occupation years brought a different occupant in the form of a Japanese department store, Matsuzakaya, which moved into the premises on 21 March 1943 after extensive repairs that were partially paid for by the Japanese military were made to the building. Robinsons would only return in June 1946, operating first on the ground floor and the basement before the building was fully returned by the British Military. A Royal Air Force amenities store in the interim following the reoccupation of Singapore in September 1945.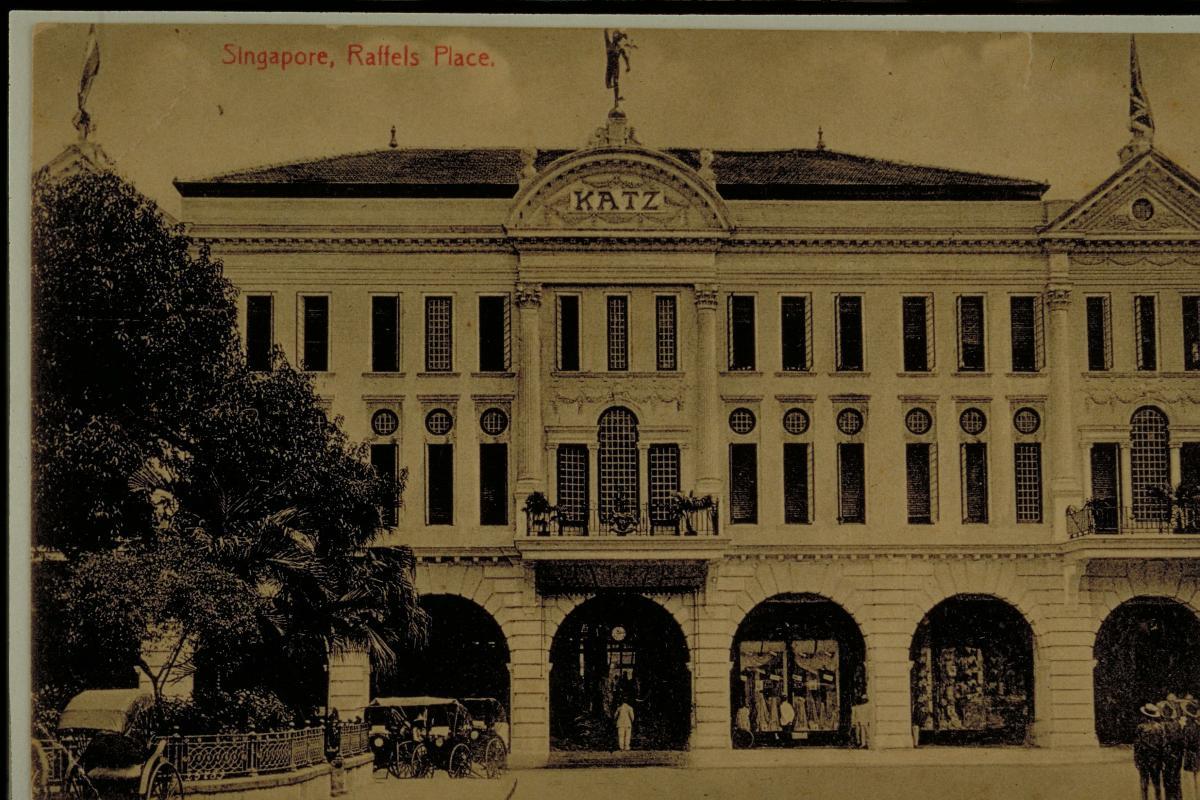 The post war years would see Robinsons prosper further and lead the way in innovations. In June 1955, the store became the first department store in Malaya and Singapore to be fitted with full air-conditioning. The tragic fire of 1972 brought an end to Robinsons connection with Raffles Place and perhaps heralded the beginning of the end for the long time shopping icon. The store was able to reestablish itself on Orchard Road — first at Specialists Shopping Centre before making a move to Centrepoint in 1983. Several changes of ownership and the store's opening of several branches did little to stem Robinsons slow slide into obscurity. In 2013, Robinsons moved its flagship store to The Heeren, which was given a more upmarket feel. That perhaps put the final nail in its coffin for the old store. In October 2020, Robinsons announced its intention to close and on 16 December 2020 it closed its flagship store and on 9 January 2020, its last store at Raffles City.
---
Parting Glances – A Last Look at Robinsons